Hey guys. So I finally went back to work and I never realized how mentally prepared I truly needed to be in order to send Rory to daycare. I had all but one minute to send her off and not even say bye, and my heart just ached. I left sobbing and truly just wanting to run back in and scoop her up. I however mustered up the courage to tell myself that this is whats best for my family. As hard as today was, I know that we will grow from it and be better off for it.
After I finished up work, I needed to do a few Nordstrom returns because we live about 45 mins from a Nordstrom (seriously so sad, but so good for my bank account). I ordered these high waisted "mom" shorts from Topshop and just hated them. I spent an entire afternoon alone at the mall over summer hunting for the best high-waisted denim and I found nothing. So when I looked at Nordstrom I took a chance on them because a.) they were on sale and b.) they said "mom" shorts so I figured they would be on the conservative side. Well my goodness, they were affordable but they were not comfortable at all! So I'm back to square one for denim shorts and luckily I have 6 or so moths before I need to endure that again. I had a few Nordstrom notes left over form the anniversary sale and I wanted to find a couple of fun new pieces. I ended up taking items to the dressing room that I don't usually gravitate towards.
This sweater was so fun, however so impractical. I loved the idea of styling it with layers and some denim and mules though. $26.90 and wearing size medium.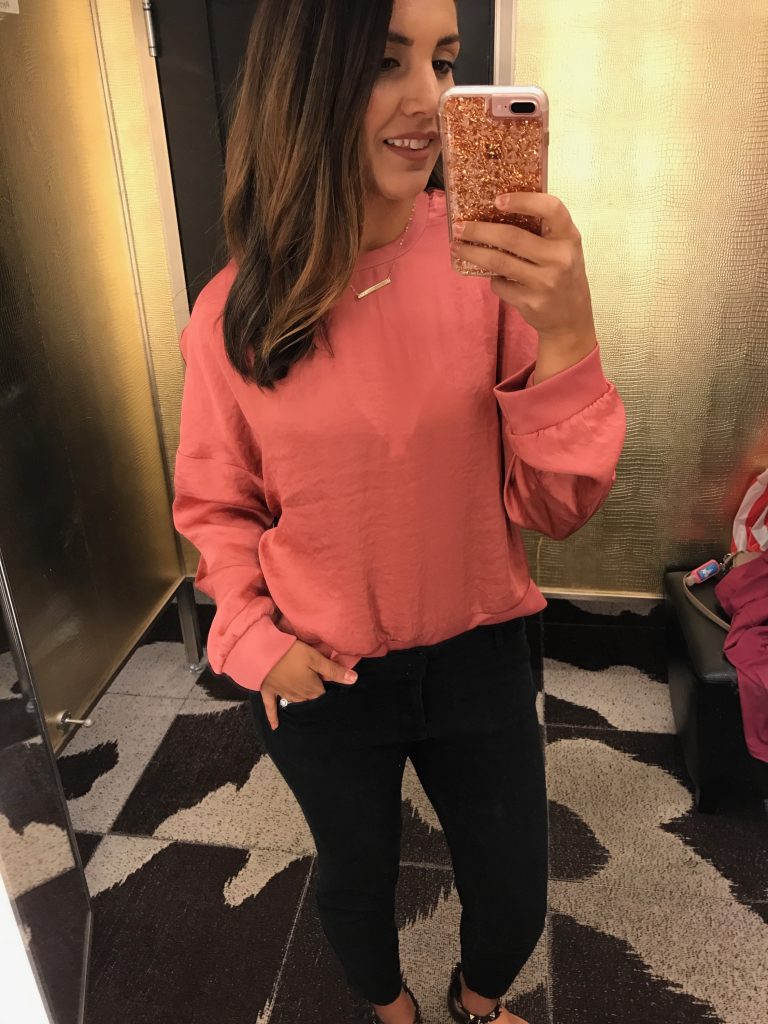 This sweater was SO fun. I absolutely loved it. I had seen it all over Instagram and wanted to try it for myself, but in an unexpected color. This most definitely came home with me! $39 and wearing a size small.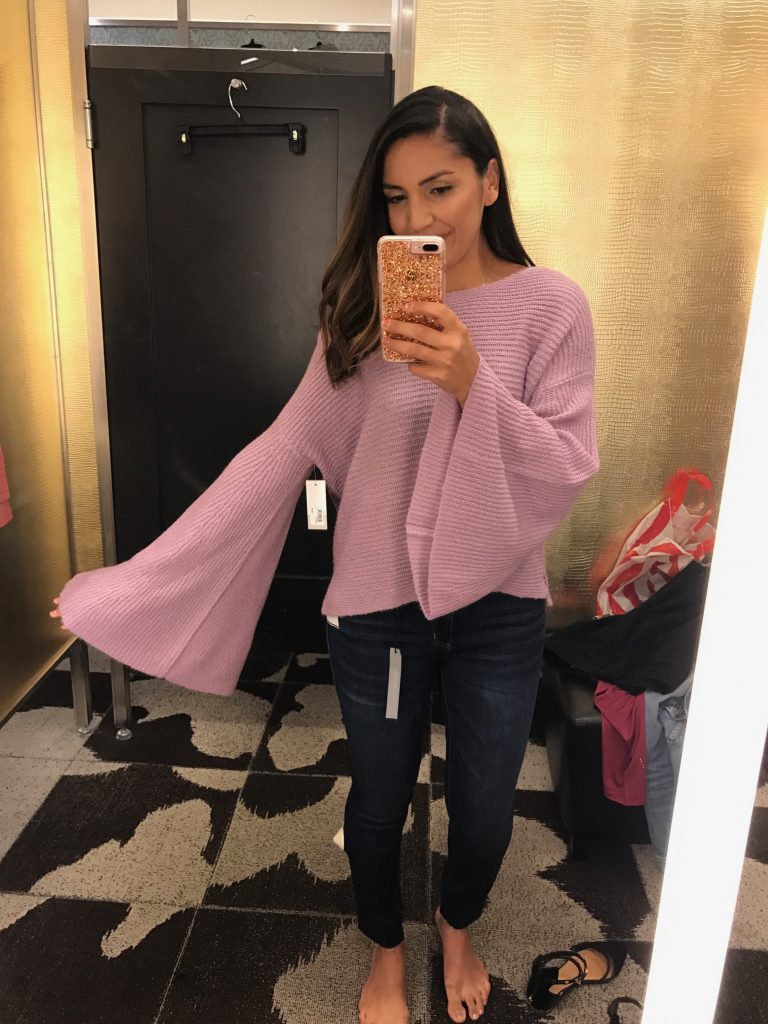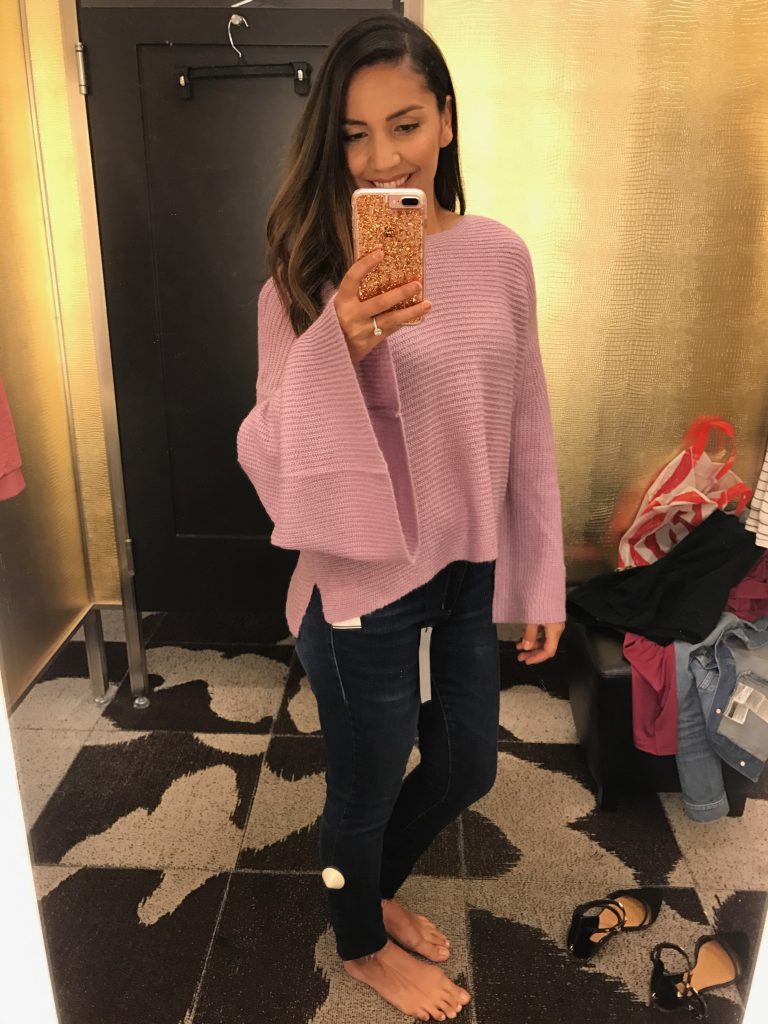 I truly loved how versatile this t-shirt is and loved layering it with this blanket scarf. I loved that you can pair it with simple leggings or make it fun with a scarf or long cardi. I paired it with these sts blue mid waist unfinished hem denim. I am in love! They are true to size and make my butt look on point! $19 and wearing a size medium.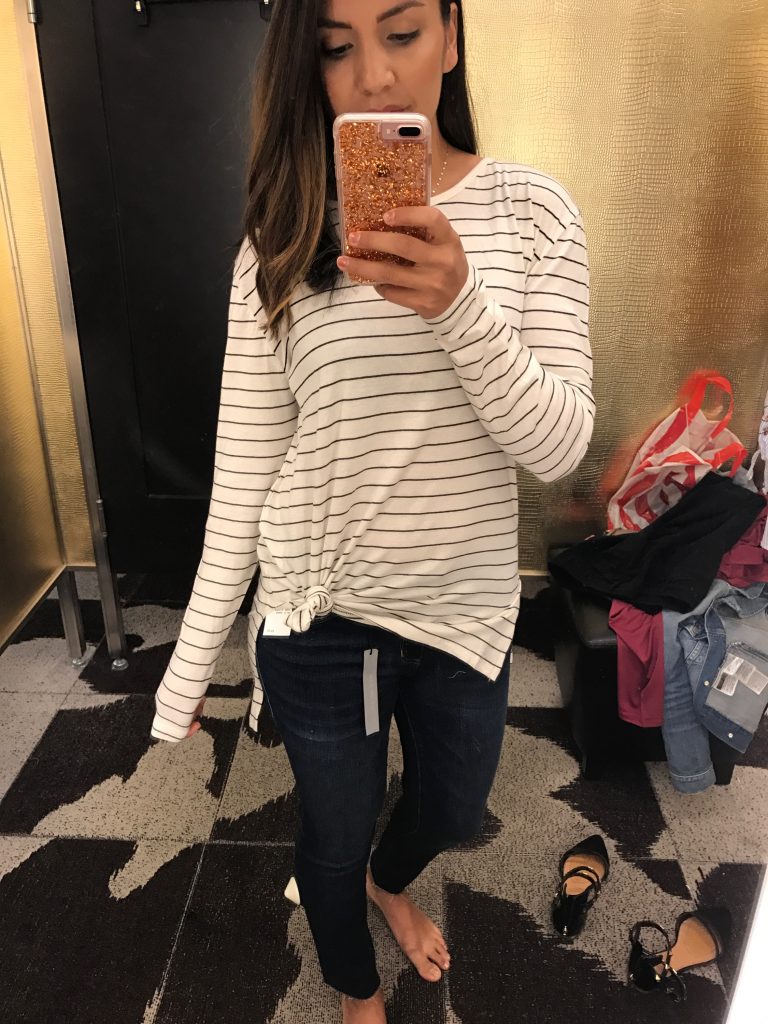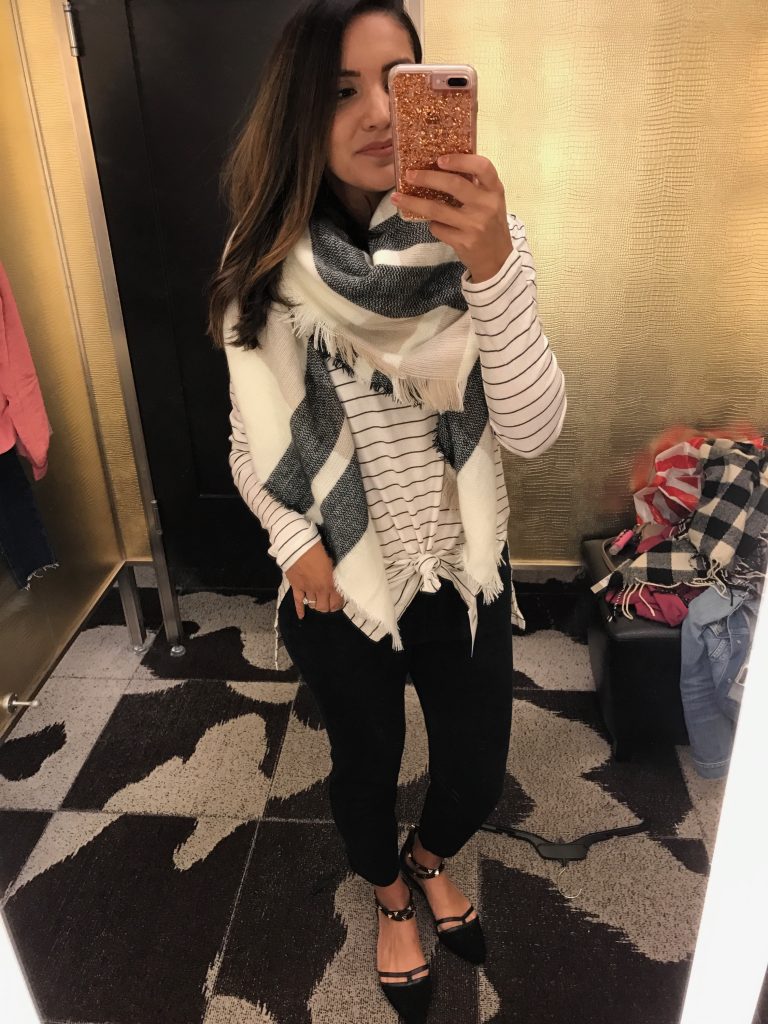 Brandy Melville 'Honey' Sweatshirt
Ok, so this sweater was totally out of my comfort zone and I did like it, but it just wasn't what I was looking for at the moment. Loved the color and the "honey" detail. (Unfortunately this is an in store item only) $35 and wearing a size small.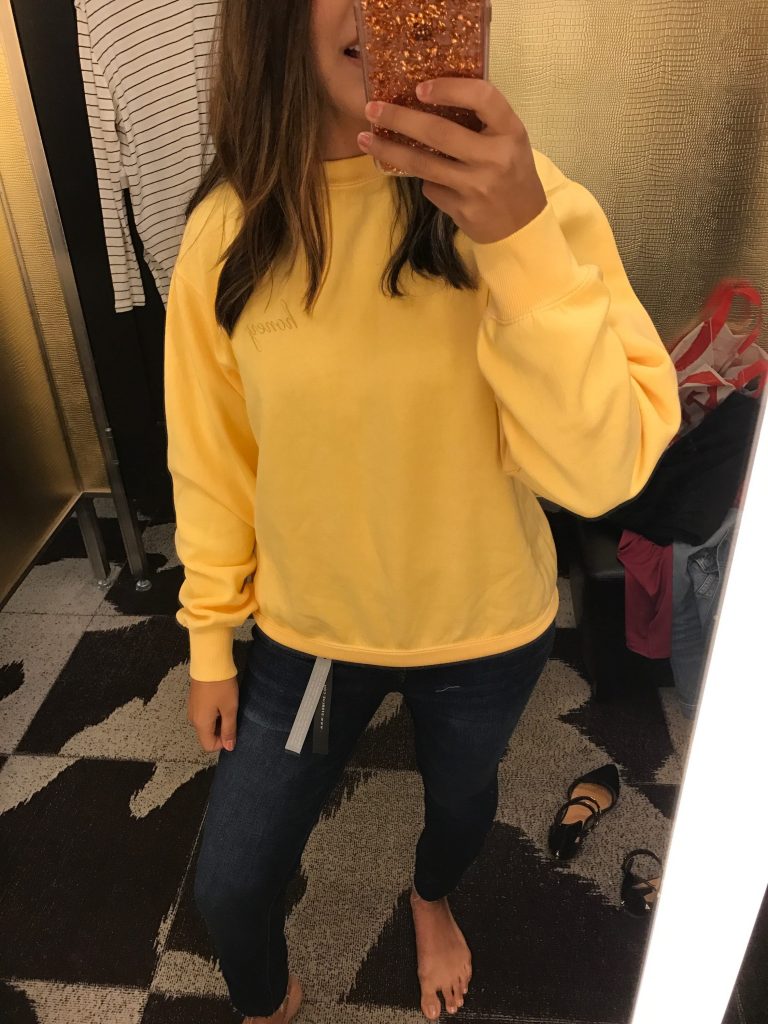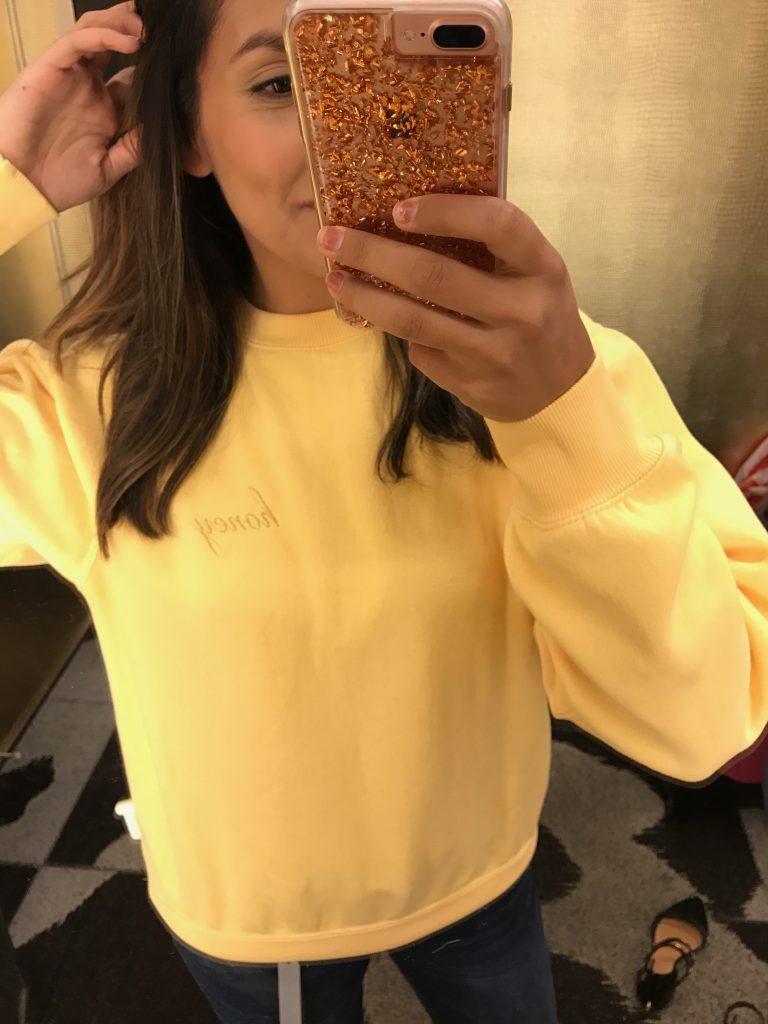 Socialite Embroidered Poplin Dress
I saw this dress and had to try it on! I instantly knew this was the dress for family photos and would be perfect with my new blank nyc moto jacket and either some mules or knee high boots. I just love every detail about it. $62 dollars and wearing a size small.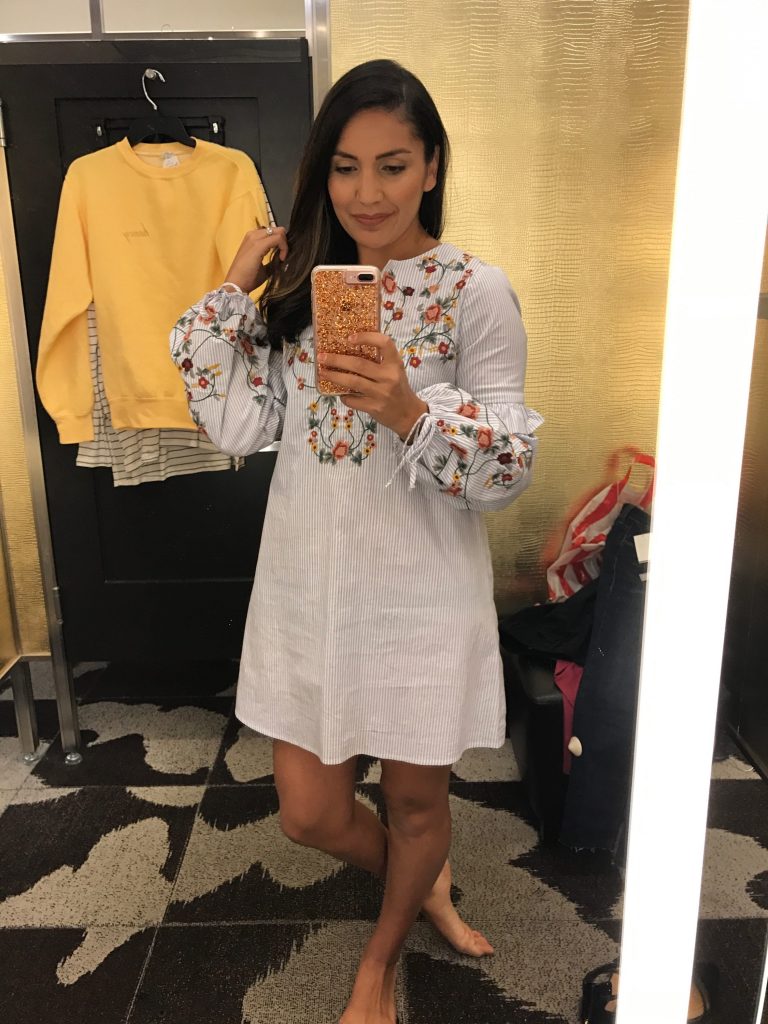 I made a quick pit stop to Nordstrom Rack as well to find the kids some shoes and found two really affordable tops. This one was so simple and extremely versatile. And at only $9 I could not pass it up. I really want a pair of camo joggers to pair with it and my gazelle adidas.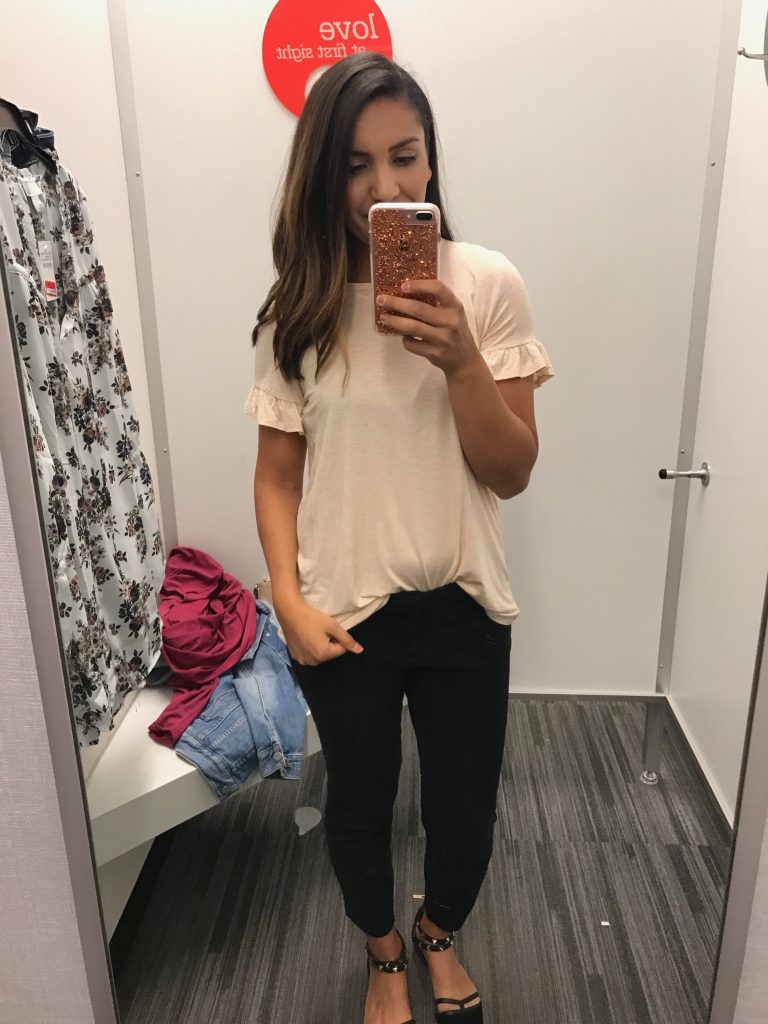 I love the pattern to this top. It would be fun to pair with simple denim or tucked into a fun pencil skirt for work. It was only $17!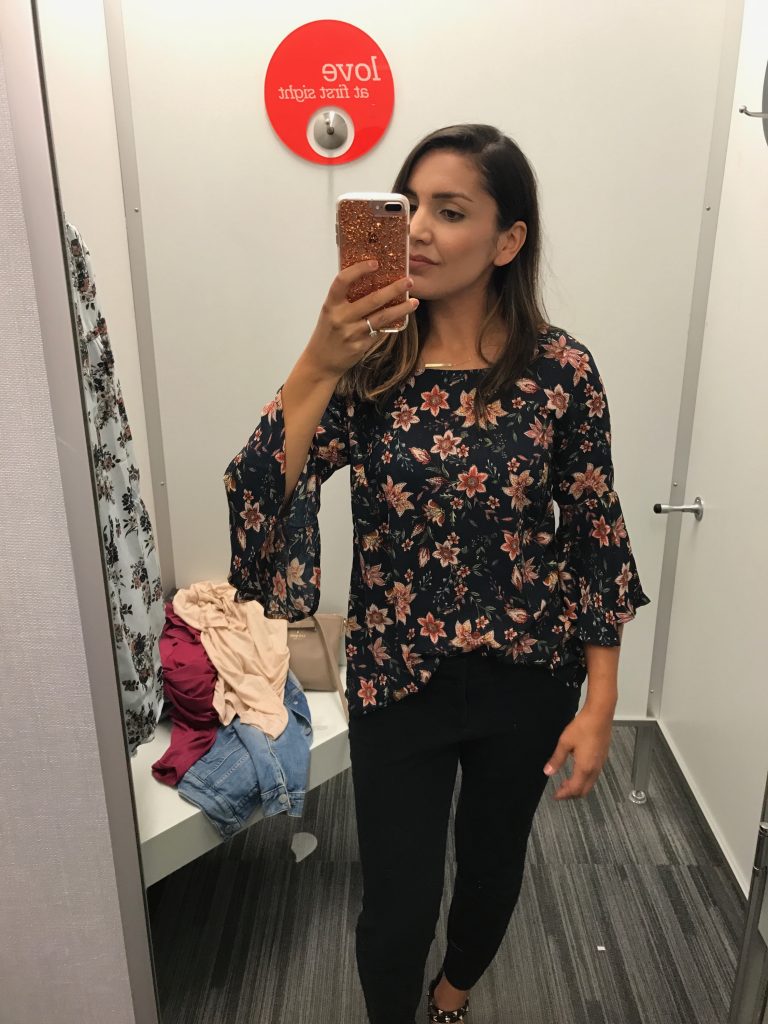 For reference, I am a size 27 in bottoms, small in dresses, and usually a small or medium in tops. I weigh 138 and am 5'6″.
[carousel_slide id='931′]