Happy Tuesday! Some of you may remember the electric toothbrush I received in the mail a few weeks ago from Smile Brilliant. Well I am here to give you my honest review! First I should make mention that my first impressions are saved in my Instagram highlights if you'd like to go watch that. And also, for those who saw my stories the next day about the stranger who took it upon herself to recommend I get a veneer on my lateral tooth… you guys were so sweet in response to someone's really negative comment and I just wanted to say thank you. That was the first time I'd been criticized directly from a stranger and it was harsh, but her opinion of me is none of my business. I've lived with my teeth for 30 years now and I'm not going let a stranger victimize me and make me feel like I should be ashamed of the teeth I have. Anyways, I just wanted this to be a reminder that other people's opinions of you are none of your business. I learned that from the fabulous boss lady Rachel Hollis and it was the best advice I'd ever read. Because at the end of the day I am very comfortable with myself and it's taken me thirty years to come to terms with that notion.
Sorry for the tangent! Back to the review! Ok, so to start, this electric toothbrush is the best I have ever tried. I'm not just saying that, I truly love it so much. My first impression was how lightweight it was. I used to use another brand that felt like a brick. This one is a feather in comparison.
The cleanliness in which it makes my teeth is unreal. After just one use, my teeth felt like I'd just been to the dentist for a dental cleaning. I woke up and they felt impeccably clean. The first night I used all the settings. I truly love the gum setting so much. I've had very sensitive gums my whole life, but this cariPRO ultrasonic electric toothbrush doesn't bother my gums like a standard toothbrush used to.
Another reason I love this cariPRO ultrasonic electric toothbrush is that after a morning of drinking coffee, this truly lessens the shades of my teeth. And that also holds true for after a night of drinking red wine! My teeth just feel so stinking clean! I feel like you need to try it for yourself so you can get the full experience!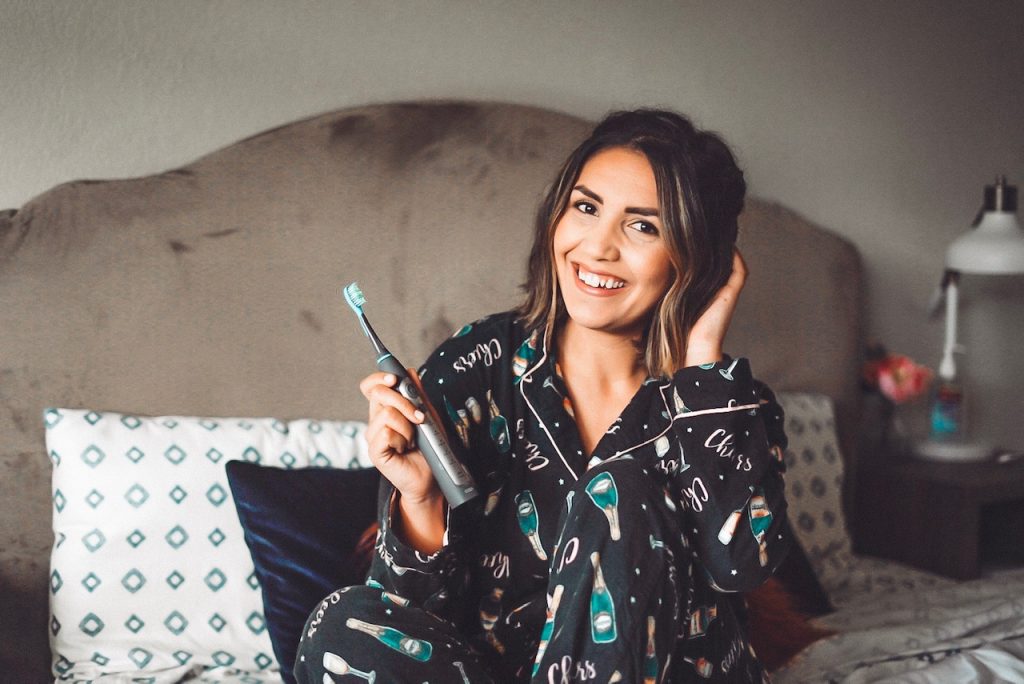 My teeth have always had tendencies of building up plaque behind my bottom front teeth. I used to spend countless minutes brushing them in hopes of eliminating the plaque…. guys, this electric toothbrush solves that problem in 30 seconds or less. It's crazy how powerful this toothbrush is and what a difference it's made for my oral health. I can't recommend this cariPRO ultrasonic electric toothbrush enough! I'm not just saying that either, I promise. I don't know how I lived without this for my whole life. Using this twice a day have improved my oral health so much. And the fact that I don't even have to think about when I need to switch sides of my mouth is huge! It's made brushing your teeth foolproof and insanely effective after just one use.
I was given an exclusive discount code for my readers! Use 20% OFF COUPON CODE: lavishlyinlovetb20 to save!
I hope to you all want try and I can't wait to see what you get! Tag me on Instagram, so I can see your pearly whites and healthy gums lol."
And don't forget to enter the giveaway to win a FREE cariPRO ultrasonic electric toothbrush! enter here -> https://www.smilebrilliant.com/gb/lavishlyinlove
<!-- SMILE BRILLIANT ARTICLE WIDGET START -->
<a id="smilebrilliant_widget_article"  title="electric toothbrush reviews">electric toothbrush reviews</a>
<script src="//www.smilebrilliant.com/widget-caripro-article/lavishlyinlove/773/228"  type="text/javascript"></script>
<!-- SMILE BRILLIANT ARTICLE WIDGET END -->