Tis the season to bust out those booties and embrace that dark lip. I wanted to share with you all my favorites for the fall and I've put together a few products that I cant live without. My ultimate go to look for fall is to pair a plaid with a statement necklace. I love the juxtaposition of the plaid with the glam of the necklace. During the day I'd pair it with denim and a flat/converse and to dress up for night I'd keep the denim, but change the shoe to a high heeled sandal or bootie.
I'm also pretty obsessed with a dark lip for fall. It adds so much to an outfit with just that little pop of color. And don't even get me started on hats. They are definitely a great 'finish the look" piece whether it be a wide brim fedora, floppy, or panama style. Nordstrom has an obscene amount of options to choose from that are really great values.
And while I'm not the biggest Starbucks drinker since I own my own espresso machine at home, I am a collector of their drinkware. I found this one at my local Starbucks and the gold was just calling my name!  And the most important thing that puts the icing on the cake to fall is without a doubt, Hocus Pocus. I used to watch this movie way too much as a child and I've let history repeat itself because my daughter is also hooked! Now if only it would start raining, I could sip on my vanilla latte while snuggled up watching Hocus Pocus.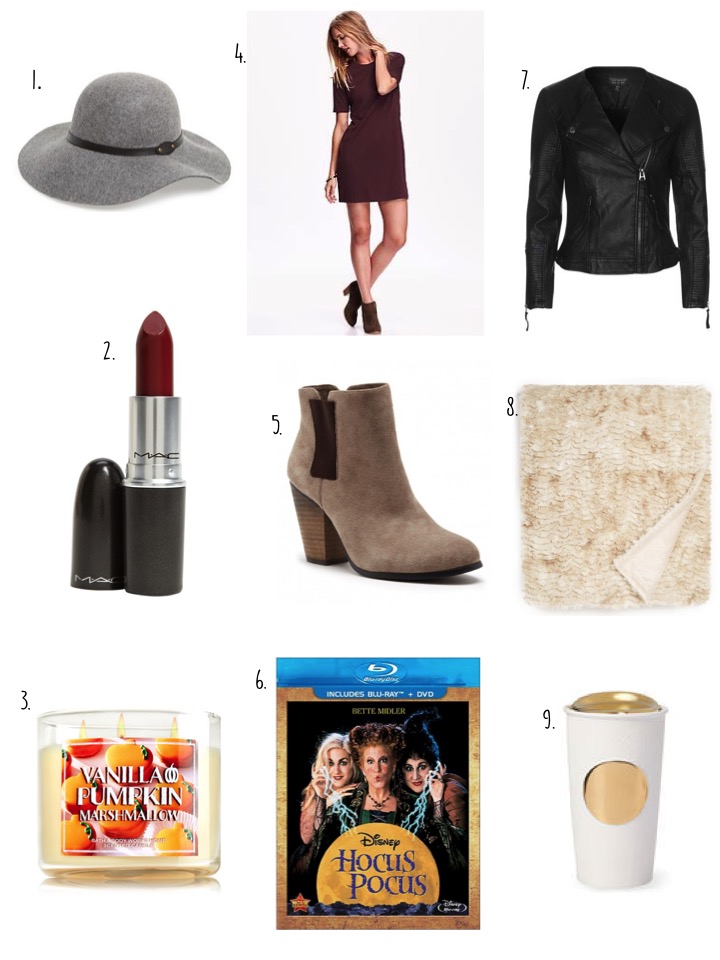 1.Floppy hat 2.Mac 'diva' lipstick 3.Pumpkin Candle 4.Shift Dress 5.Bootie 6.Hocus Pocus 7.Biker Jacket 8.Plush Throw 9.Traveler Mug